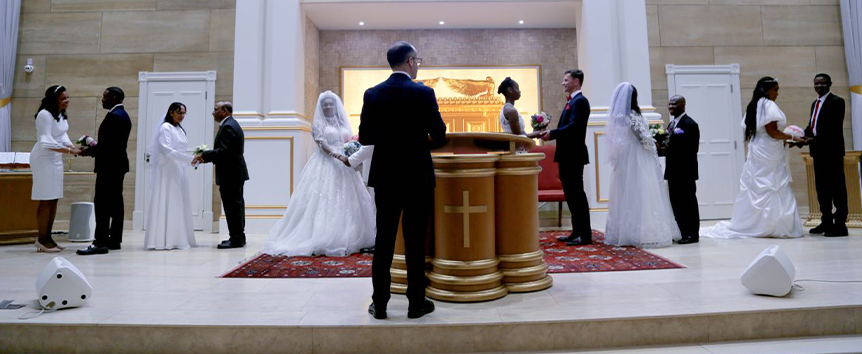 On Thursday, 25 May Love Therapy hosted the Marriage Celebration, where six couples received the blessing from the altar for their marriage. This ceremony took place in our beautiful church in Kilburn at 8pm and it was a reminder of the value of marriage and the role that it plays in the life of a couple.
Friends and family members of the brides and grooms came to witness this special ceremony, led by Bishop James, who emphasised the need to become one flesh in marriage.
This was a unique and important night for everyone present and no one left empty-handed. There was a special blessing for singles and couples from 10 Pastors and their wives that have been married for more than 10 years.
Following on from the rebuilding myself project Bishop James and Mrs Helena, shared their personal experiences of the importance of limits and boundaries in a relationship and challenged couples to a homework of asking their partner the following:
"What do I do that attacks, disrespects or hurts you?".
If you missed this event but would like to learn how you can be happy in your love life, the Love Therapy Seminars take place every Thursday at 8pm in the Rainbow Theatre, 232 Seven Sisters Road, N4 3NX.
If you're married or dating, you can also invite your significant other to join you at our next meeting.