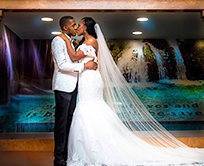 Robert Harriot's love life was very inconsistent before coming to the Universal Church. He didn't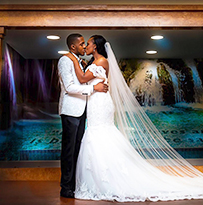 respect women and slept around a lot, as if love were a game.
'I used to watch so much pornography that it gave me a distorted image of women. However, things started changing when my parents introduced me to the Universal Church. I found the messages very insightful and I had never heard such impactful teachings anywhere else. I became intrigued and wanted to learn more and more, so I continued attending. Little by little, I started to see changes in myself as, for example, the desire to watch pornography vanished. My mind became clearer and stronger.
In order to change the state of my love life and the way I viewed it, I also started attending the 'Love Therapy' meetings every Thursday.
There, I learned that I had to work on myself and my relationship with God before I could be in a relationship with a woman. As I started to grow closer to God, He began to clean my heart and mind. I stopped guiding my love life with my own hands and I put God in control. I trusted Him completely.
One thing in particular that I heard at the Universal Church that had a lasting impact on me was to be persistent, and to always know that God is with me in everything that I do. Though it was hard to change and to get rid of my bad habits, I held onto this lesson and made every effort to remain persistent on the journey to positive change.
I faced doubts with regards to whether I would be able to follow God and His teachings. I thought it was too hard, but as I continued listening to His words and practising them, I became stronger.
To anyone who has gone through the same things in their love life as I have, I would say that if you want to have a blessed love life, you need to have a blessed relationship with God.
Work on being with Him before being in a relationship, or else you end up taking a lot of baggage with you and making the wrong decisions.
Fast forward to today, and I am happily married now. I met my wife at the 'Love Therapy' meetings, where one of her friends introduced us, and from that point on, we began to build a relationship.
I knew I needed to change in order to be a good partner. I was so used to being single and so used to dealing with things on my own. I had to work on communicating with my partner and involving her in my life as well as being open with her. The 'Love Therapy' meetings taught me to be open and communicative, and they helped our relationship a lot.
What keeps me going through my journey now is the respect I have for God, and the respect I have for my wife.'
Robert Harriott